The Right Badge Accessory for You
When it comes to displaying ID badges, your options are endless. With so many different options, how do you choose the accessory that's best for you and your organization? As the identification experts, we're focused on providing all the products you need and none that you don't. Refer to our ID badge accessory guide to properly outfit your badges.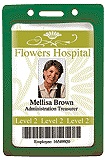 Badge Holders SHOP NOW >
Badge holders extend the life of your cards and reduce the number of reprints you make for staff and students. By protecting ID badges from the elements and accident-prone employees, you can save money by reducing the number of replacements.
Badge holders are a smart investment for organizations with employees who are often outside or working in various environments. For example, employees at a grocery store are often going in and out of freezers and refrigerators. The temperature changes and moisture can wear down a badge over time.
Lanyards. Lanyards are the badge accessory for you if visibility of ID badges is important to your organization. Lanyards keep ID badges on display and accessible.
Lanyards are a popular choice for schools where visible ID badges are mandatory for students and staff. This is a growing trend in school security measures. Give the students incentive to wear their lanyards and badges with custom lanyards that promote the school name, mascot or character values. Promote school spirit and safety at the same time!
Badge Reels. ID badges are frequently used to permit building access. If your ID badges are part of your access security, then a badge reel is the best option for your staff. Clipped onto a belt or waist band, badges are always within reach, and the expandable cord makes it easy to scan.
This type of identification and security is common at businesses and corporations. Access control is especially important in buildings with multiple tenants and businesses working side by side. Ensure that only the right people get into your building with ID cards, and make it convenient for staff by equipping them all with colorful badge reels.
Product Spotlight
Medical Badge Reels
| | |
| --- | --- |
| Ideal for medical professionals who wear scrubs and are required to carry identification, our medical badge reels have a smooth and soft plastic grip that wears comfortably against skin. The plastic grip securely fastens to a waist band and keeps employee identification at the ready. | |
Tips & Tricks
Put those badge reels to work when you use IDMaker software to program building access badges. The IDMaker software allows you to program all of your ID cards for building access using a barcode or magnetic stripe, and it is compatible with any type of access reader.
Case Study
For a busy school, getting the most out of its investments is important. At St. Catherine of Sienna School in the greater New York City area, the school is taking advantage of its IDville identification system by using it for both security and functionality.
"Our identification system is used two-fold. It acts as a security feature for student ID cards, which include students' pictures and names, and also for checking out library books and buying lunches," explained Principal Scott Conway. Scott designs the ID cards with a bar code on the back, which allows the cards to double as a library and debit lunch card.
The speed of the new system has helped move registration lines along and has saved the school labor costs. "Using the barcodes on the cards speeds up library checkout and helps staff identify the students," added Hester. "We also make ID cards without a photo for substitute teachers and visitors." This badge system increases building security, leaving students, staff and parents feeling more secure.