24 mil Adhesive Plastic ID Card w/ Mylar Back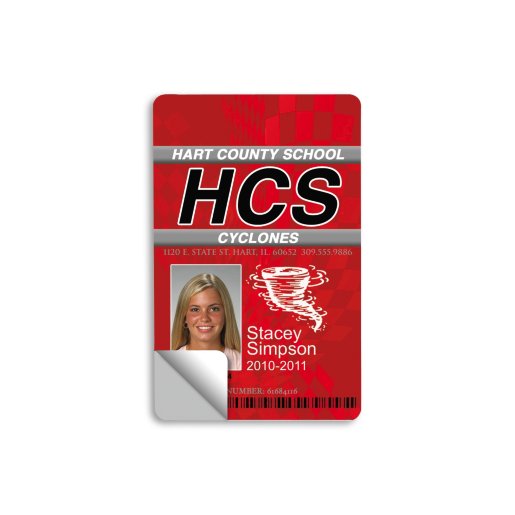 These polyvinylchloride constructed cards are a common choice for ID badges industry-wide. Compatible with all PVC card printers. Designed specifically for use with our ID Maker® systems. Attach it to your existing proximity card to add a photo component and reduce frequent badge reprints as personnel change. Choose from a variety of cards to fit your access control needs. Need help? Chat live with an IDville expert to select the best card, for answers to your ID system questions or to request a free custom ID sample.
Item Details
PVC card measures 3 3/8" x 2 1/8"
24 mil total card thickness - 10 mil pvc card with 14 mil removable adhesive mylar back
100 PVC plastic cards per pack
Compatible with all PVC ID card printers
Print a photo ID badge and adhere it to your existing card or a clamshell PROX card
Specifications
Material:
PolyVinyl Chloride
14 Product Reviews
14 Reviews
Average Rating: 4.64 out of 5
This adhesive overlay works very well

Once you figure out the easiest way to peel off the mylar backing, it works great, allowing you to reuse expense prox cards.

Works with Zebra XPS

I used this to add to my HID Prox cards. Much cheaper than having to buy the printable prox cards. It prints wonderfully on my Zebra printer.

Great Product

This is the only badge front that I have purchased which works consisitently with our printer. Tried other brands and had jamming problems and other issues.

Adhesive cards -- very satisfied

We use these cards to add photos to our existing access badges. They print easily and adhere well to the existing cards.

works great!

We use these for our ID Cards using the IDMaker to print and reel badge hold them. All of these product work and look GREAT.

24 mil Adhesive Plastic Card w/Mylar Bak

Our company is very satisfied with this product. We have not experienced any peeling with this product.

Good performance

We use the adhesive mylar back badges exclusively, with the exception of visitor badges. It is important to adhere them fairly exactly to the card to prevent the corners from peeling away from the card, but when positioned straight to the card, they have lasted very long.

They work GREAT....

We print ID photo using the ID Maker to Adhesive Plastic Card then attach them to the ProxCard II, It work GREAT!

It's GREAT....

For photos on our key cards and it work Great.

I would buy this product again

I looked on line for a product that I normally would order through a vender that never kept in touch and found your product. The service was great and I received my overlays in a timely manner. We were in the process of changing our design due to a company name change. Needed to act quick

Mylar plastic card w/adhesive

You had what our company needed-Thanks!

Great product, we have reordered again

We purchased the cards for use with our proxy cards. We have had no issues, they stick great, and go through the badge printer well, unlike the thinner cards that seem to get stuck in badge printer.

Reuse your HID Prox Cards

You can save on the cost of New HID Prox Cards and reuse old ones by placing the PVC with adhesive on them. These really stick well to the HID cards but you can get them apart to reuse again in the future. I highly recommend this.

Great product

We used these cards to adhere to our existing security badges. They were a perfect fit.