30 mil White Composite Plastic ID Card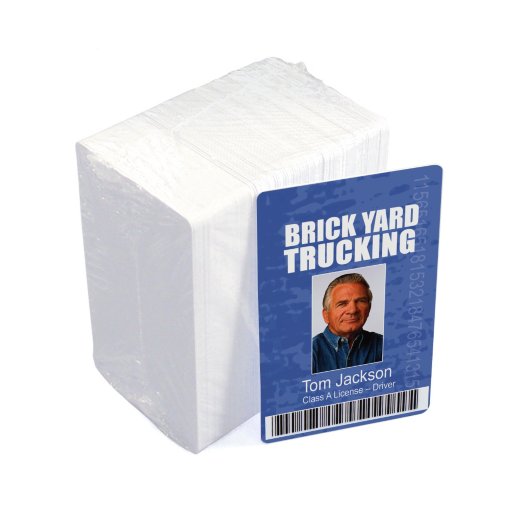 Ideal for organizations that use ID cards regularly for functions such as time and attendance scanning, these cards accommodate a variety of access control needs. Plus, they're ultra durable—made of 60% PVC and 40% polyester core and able to withstand extreme temperatures—to accommodate a variety of working conditions.
Item Details
Pack of 100 cards.
30 mil thickness.
Withstands extreme temperatures.
Priced per pack of 100.
Dimensions: 2 1/8" x 3 3/8"
Specifications
Material:
PolyVinyl Chloride
5 Product Reviews
5 Reviews
Average Rating: 4.6 out of 5
Great little machine for ID badges

Badges work great

Security Badges

We are a non-profit child welfare agency. It is very important to have a secure facility for the children. No one can get in without one of our security badges. We also use the same badges to monitor our copy paper usage. Consequently, we save money by double usage of one badge!

Tags worth touting

We use these to make name tags for our travel guests. They produce consistent, great looking tags with crisp detail and vivid color.

I would buy this product again and again

The ID Maker and cards we ordered are of great quality and extremely helpful for our program serving over 1500 people who need ID Cards printed. We have not had any issues with the quality of the print or the cards. Great product- highly recommended.

Great service, great products!

We use these durable composite plastic cards to make name tags for our guest travelers. Using our ID Maker and ink we order from IDViller, our name tags print up crisp and vibrant. I greatly appreciate IDVille's friendly, prompt, thorough customer service! - a satified customer