Adhesive Bar Magnet Upgrade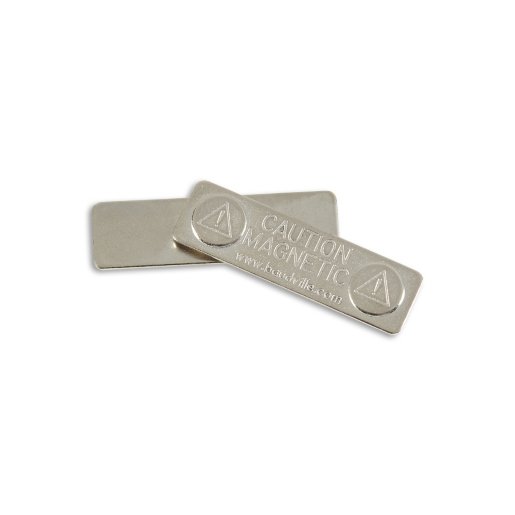 A cost-effective option for badge wear, this bar magnet prevents unnecessary wear and tear on clothing. It's a convenient alternative to a lanyard or clip display that still keeps your ID card front and center.
Item Details
Round magnet also available.
Adhesive sticks the magnet to the back of your ID card.
Do not use with magnetic stripe ID badges.
Priced per magnet, sold in increments of 25.
Dimensions: 1 3/4" L x 1/2" H
Warning: magnets should be kept away from pacemakers, credit cards, and computers.
35 Product Reviews
35 Reviews
Average Rating: 4.86 out of 5
Adhesive Bar Magnet Upgrade

Everyone at Educational Service Unit 8 likes the magnet for their nametag. It makes wearing the nametag very convenient.

strong and works well

We like how strong this magnet is and easy to apply to tag.

Magnetic!

We needed the magnetic backs as several of our staff had lost their and were unable to use/wear their nametags.

Good, not perfect

Probably great as-is for its intended use. We use it in jewelry, as a brooch clip. But we lost about 5% of the magnets. We test them and re-glue them with stronger adhesive.

Strong easy to use magnets

These magnets are just as advertised; strong, and easy to use. The adhesive used also has to be strong to affix the metal strip to the name badge and it is. They work great.

name tag review

used as a name tag

Adhesive Bar Magnet Upgrade

Works just as I had hoped.

This product is strong and stable

I use the magnets on the names tags from IDVille. The magnets stay on the name tags and they are so easy to assemble. I will continue to use this product.

Great

Product works great. Does not hurt clothing.

good product

good name tag

Adhessive Bar Magnet

Magnets work great for name tags. Stay on until removed. Do not leave marks on clothing.

this is a great sturdy product

I used the magnets to adhere to the nametags used by the team. They are sturdy and reliable. I will continue to use this product.

Quality product - employees like them

We have had other name tags in the past (photo i.d.s with lanyards.) Employees did not like to wear the photo i.d.'s with lanyards. I.d.'s were frequently misplaced and rarely worn consistently. Since purchasing the name tags with adhesive bar magnet upgrades, employees are wearing the name tags daily. The magnets are strong enough to hold through clothing.

worth the upgrade!

appreciate not having to poke holes through blazers when wearing a badge!

Strong and easy to use

These magnets are a great addition to the Reuseable Name Tags. The adhesive is strong, and the magnet works well through clothing without leaving marks.

Amazing, love the magnet holders

Our STaff love the magnet holders, no sticking holes in shirts!

strong

Great Customer service

Adhesive Magnetic Bar

We attach the Adhesive Bar Magnet in place of the pin for attaching our personnel company ID badges. They work exceptionally well and don't damage the clothing they are attached to.

Good product

Very good product.

Works great with classic name tags!

Very functional and practical!

Great product!

We use these for nametags at my place of employment and we love them! They're hard to lose and easy to stay on. Great product.

Adhesive Bar Magnets work great

Our local Referee assoc. uses these bar magnets to attach different patches to our uniform shirts. The patches are approx. 3 inches in diameter, depending on the site or venue. We also attach. an American Flag to the sleeve. The adhesive material works great and doesn't "loosen" after 1 year of use. The magnets are strong enought to hold the patches securely in place. If you cannot sew on patches because of different organizations these work great.

Adhesive Bar Magnet Upgrade

No more holes in your clothing. Good upgrade. It is worth buying.

No more loss badges

Are Maintenance crew were lossing badges with the clip style. They would get caught on things, fall off when working outside etc. These magnets hold the badge in place so that it is not flapping around and getting in the way. Great product. The price point is a little high so it is a good thing that only one department needed this style of badge holder.

Always satisfied! Great customer service

Great products. Always satisfied.

great product for our company....

great!

Made it right!

Miscommunication. Ordered a name badge with magnet backer. Name wasn't properly aligned in frame. Sent a replacement name badge but without magnet upgrade. Phoned company they immediately sent out the magnet backer for the replacement name tag. They made it right!

Good product. Will buy again

Magnet very tight fit. Nothing bad to say about product.

great product...

We use this product everyday. Many of us have had to deal with putting wholes in our shirts because we weren't aware of this product....THANK GOODNESS! Everyone loves wearing their name tag now.

Excellent Customer Service !

Product is very durable and reliable. My employees love it. Ordering the items was even cinch. Perfect!

Stuck on you!

love the product. works great.

upgrade on name badge

I was glad to have this option available.

Magnet bar saves clothes

We have searched for the perfect style of name tags. We used the kind with pins, and the paper stick on's. Since we use the name tags on Sunday mornings at our church, these style of name tags would ruin the peoples nice clothes. One of the leaders at our church went to a conference where the magnetic style was used and told us about it. We have had so many people thank us for changing to these new magnetic fasteners.

Adhesive Magnet Bar

Makes badges better. No more holes in your shirts or unnessary items hanging from your neck.

These magnets perform just as promised!

We ordered these magnets as we were tired of wearing our badges on a chain or attached to our lapel, etc. They work perfectly and don't in any way mess up our clothes. They are great!!