Evolis Pebble/Dualys YMCKO Printer Ribbon R3011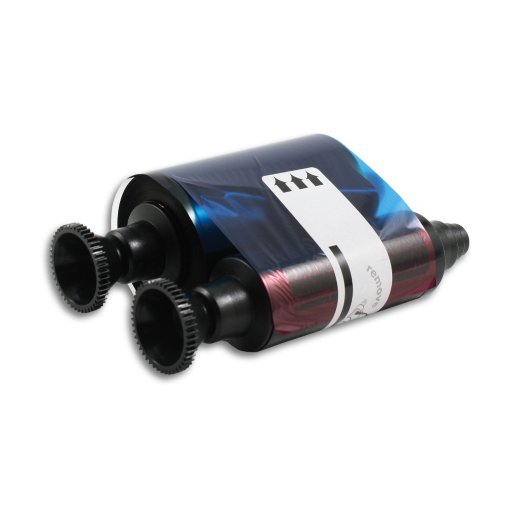 With excellent print quality and an easy-to-load roll, the Evolis YMCKO Printer Ribbon R3011 is a great option for printing single-sided ID cards. It prints full-color images and text, and it features an overlay to protect your cards from everyday wear and tear.
Item Details
Prints full-color images and text.
Features a clear overlay to enhance card durability.
Prints 200 single sided cards or 100 dual sided cards per roll.
Compatible with Evolis Pebble, Pebble 2, Pebble 3, Pebble 4, Dualys, Dualys 2, Dualys 3, and Securion ID card printers.
Specifications
ID Card Printer Model:
Securion
ID Card Printer Supply Brand:
Evolis
ID Card Printer Supply Type:
Printer Ribbon
31 Product Reviews
31 Reviews
Average Rating: 4.71 out of 5
Great Price

I always buy the ribbons from IDVILLE. They always have them in stock for a good price and fast shipping. I know I can count on IDVILLE.

Excellent and reliable product!

This particular brand printer ribbon is used to print government ID Badges on the Evolis Pebble printer. It holds to the approximate 200 cards that can be printed, as advertised, and the prints are consistently of good quality.

I continue being a 'returning customer'

We are continually pleased with both the product and the service/delivery.

Priced right and quality product.

Easy to install and gives a quality print on Access & ID Cards.

Robin works great

Our company makes several name badges each year. This ribbon works very well for them.

Great Printer Ribbon

Perfect for our needs. Prints around 200 cards.

Evolis YMCKO Printer Ribbon R3011

Good product, fairly expensive.

Quality product!

Works perfectly! No problems what so ever!

Long lasting product

Very easy to load into the printer, and it lasts. Doesn't dry out or go bad between uses.

works well

I do not personally use this item, I just purchase them. I am thankful for the pleasant staff members who assist in ordering and the prompt deliveries.

Perfect fit!

This is a perfect fit for our Evolis printer.

I will work with this company again!!

Very good Customer Service

Never had a problem with any ribbon!

Items are shipped fast! Never had a problem with any of the items shipped!

Evolis YMCKO Printer Ribbon R3011

Great, reliable. We use this product everytime

I would buy this product again and again

I use this product for making ID badges for our school system.

I would recommend this product to others

Products used to make employee badges and for holding/carry badges

I will buy this product again.

I use this product in making our employee ID badges.

Life made easy

Making ID badges with this system is easy and efficient. Plaudits in the capitol to you. Danny

Absolutely fabulous

The company I work for uses this product for Id cards. The thing that is so wonderful is they are durable. The only negative thing I could say about this product is the cost is too high.

Evolis YMCKO Printer Ribbon R3011

We use these ribbons in our Evolis ID Badge printer and they are very easy to install and also to remove when they need to be replaced. The ink lasts a good long time so it is not too expensive. The print quality is very good also.

"I will buy this product again"

This product is used in our ID maker. Picture, color and writing on badge looks good and no smudge. Works great!

Solid Product

Works as expected. Fairly easy to install. A little overpriced.

Good print quality

Good print quality

D.M. Bowman, Inc.

I have used the Evolis Printer and these ribbons to create over 1700 badges so far. I print badges for our employees weekly. I haven't had any trouble with the system or printer ribbon. When I had questions regarding cleaning the system, the folks at IDville were responsive and helpful.

What a product!

This system makes our worker ID easy and foolproof for our tool room attendants.

Good Ribbons

Easy to use unwrap drop in and your ready to print.

Was the right ribbon

This is a standard product to use in our evolis printer. It appears to do a good job and wasn't to hard to replace.

Satisfactory product I would buy again.

I work for a company that uses the Evolis Pebble to print Id badges. We use this color printer ribbon to print our badges. This ribbon produces very colorful, clear, and easy to read badges. We add a barcode to the front of the badge and when we print a barcode with this printer ribbon it is easily scanned using a barcode scanner. We have had issues in the past with printing a barcode on other printers with different printer ribbons and having them print out blurry enough to not register on the scanner.

Excellent Product[...]

Great product for printing ID cards in color.

Printer Ribbons Clean Up In Ink Market

Clean, simple, portable, and fast. Uses...membership badges, tradeshow security, safety team id's, durable phone # cards.

The best value for your money

The ribbons last for many prints and don't break like the others.