Horizontal Swipe Card Badge Holder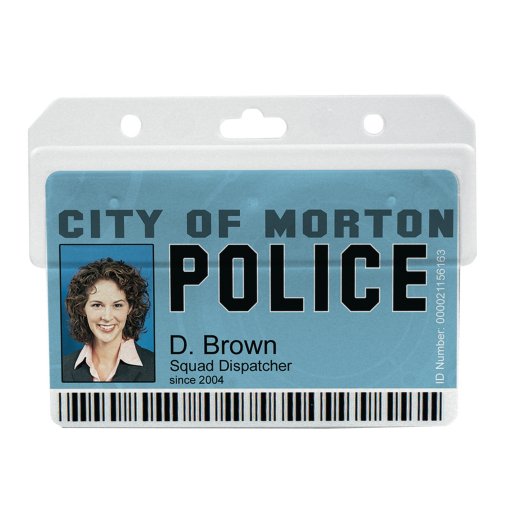 Perfect for everyday use and frequent ID card swiping, this badge holder securely holds your horizontal-swipe ID while leaving it easily accessible. It features a slot punch to accommodate most ID badge accessories, and the clear plastic construction allows you to proudly display your ID card design.
Item Details
Durable plastic construction.
Ideal for horizontal credit card sized inserts.
Slot- and circle-punched for easy ID badge accessory attachment.
Priced per holder, sold in increments of 25.
4 Product Reviews
4 Reviews
Average Rating: 4.75 out of 5
Perfect for our needs.

The Horizontal Swipe Card Badge Holder works great for our building's ID badges. They are very streamline and far less bulky than other badge holders. this is the second time we have ordered these and we will order them again.

we plan to buy these again and again

We were in a bind with a new time clock system and we were going to have to take our badges out of our old holders and swiping and then putting them back. This was not work at all since the badges stuck to the plastic sides of the sleeves we were using and the lanyards clip would tear the sleeve with the constant removal. This holder was the perfect solution and we needed them overnight. The customer service rep was great and very helpful and we placed our order and got them rushed overnight. They showed up the next day around 2 pm as promised. This is one of the best purchases we made and everyone is happy with these. There was some concern that the badges would just fall out of the holder with the warehouse work we do, but we have found this to not be an issue. The badges stay securely in place and connect to our existing break-away lanyards. They also still work with our door access system too. Perfect soltion for tight timeclock slots.

Badge Holder

We started using this for our teachers at out Open House evenings. It is a very sturdy product and I am sure it will last longer than a vinyl one. It might be good if it closed at the end so the card with the name on it would not slip out. Otherwise it is great.

Good product

easy ordering, quick delivery