ID Card Slot Punch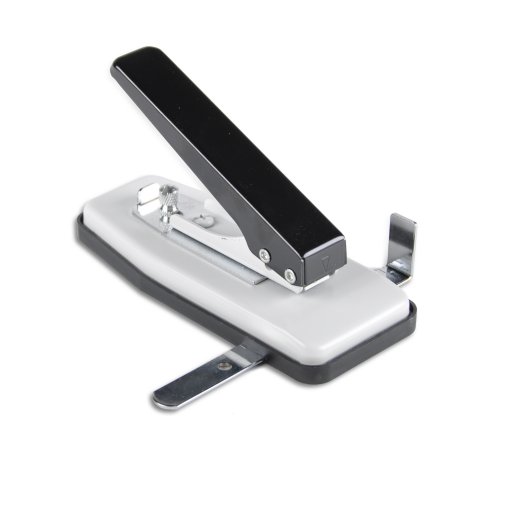 Slot punches add convenience and security to wearing an ID by providing a slot for a lanyard, badge reel, or badge holder. This heavy-duty model is easy to use, with its push-down lever, adjustable guide, and small size.
Item Details
Made of heavy-duty steel.
Perfect desktop size.
Features an alignment guide for mistake-proof slot punching.
Works with laminated or plastic ID badges.
Works with both vertical or horizontal cards.
Dimensions: 7 1/2" x 6"
Specifications
Material:
Heavy Duty Steel
13 Product Reviews
13 Reviews
Average Rating: 4.31 out of 5
Makes holes

The punch works as it should, it makes holes. The build quality is good and the price reasonable.

Works Good!

Works great with IDVILLE Maker

ID Slot Punch Works Great!

Works great. We are able to slot punch id cards in house and it's so easy!

Just what we wanted!

We needed a new ID card punch but were unsure what to order, our current one was so old. This punch is heavy duty, works great for our needs, and arrived within a few days. Couldn't be more satisfied!

Not enough range to punch ID cards

On a standard 3 1/2" ID badge, the slot for the lanyard, from the edge of the card, is a minimum of 5/16" down, so it punches right through faces and titles. It can adjust to go deeper into the card, but not shallower. I returned it.

HolyHole

What can you say about a hole puncher? It punched a hole. Good job!

Product meets high expectations

Student ID Cards, works so much better than a round hand punch

Great Purchase

I use this product daily to make company badges. It is a great product and I would suggest it to anyone.

great product

I use this product in my office or on location and it works great, it's also very compact.

Slot punch

Works great. Easy to use. Will probably last the lifetime of my career. Boss thinks it is over priced.

Excellent Product -

Use this product for our company badges and it works great. Very easy to use, does not take a rocket scientist to figure it out.

Love it...

I love this....so user friendly and easy to control!

Does what it says ID Hole Punch

Was using hand held punch and had to manually align and use brut force. This just punches without effort and it is consistant with location of punch. Need an additional guide for centering. You do have to eyeball it to make sure it is centered, but it isn't difficult. A guide would just be a nice enhancement.