ID Maker Printer Supply Bundle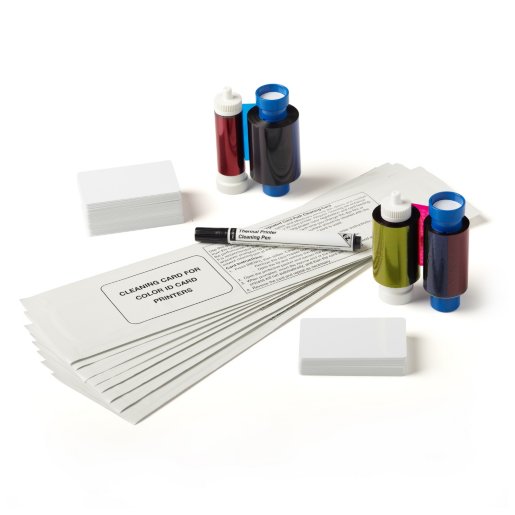 Stock up and save money on all the printer supplies you need for your regular prints, reprints, and updates. Why? The more you buy, the more you save. Supplies don't expire, and it's one less thing to think about. Each bundle includes two 300-print YMCKO printer ribbons, 600 30-mil white PVC cards, and an ID Maker® Advantage/Secure cleaning kit. That's enough supplies to print 600 single-sided ID cards!
Item Details
Bundle Includes: two 300-print YMCKO ID Maker® printer ribbons, 600 30 mil white PVC cards, and one ID Maker® Advantage/Secure printer cleaning kit.
Compatible with ID Maker® Advantage and Secure printers.
Includes everything you need for 600 single-sided ID badge prints.
2 Product Reviews
2 Reviews
Average Rating: 4.0 out of 5
Best deal for the dollar

My school district has been using the Advantage ID printer for over two years. So far we love everything about it. To buy the ink and cards separately would cost our district more so we always bundle for the better deal. My only complaint is the last two ribbons of ink towards the end of the roll, my machine kept shutting down telling me that my spool of ink was empty. I opened the lid and saw that there was quite a bit left on the spool. I closed the door and it ran again for about 10 cards and stopped again. It kept doing this until it finally did get to the very end. It might have been something in the spool or my machine, I don't know. The other reason I gave this only four stars is because I now have a large supply of cleaning cards because I don't clean my rollers that often. It is probably better to have too many cleaning cards than to pay more.

Great Value

I ordered 2 supply bundles together.These bundles are great but I would like a bundle that includes the cards and ribbons only because I rarely use the pen or the cleaners.