ID Maker YMCKO Value/Advantage/Secure Printer Ribbon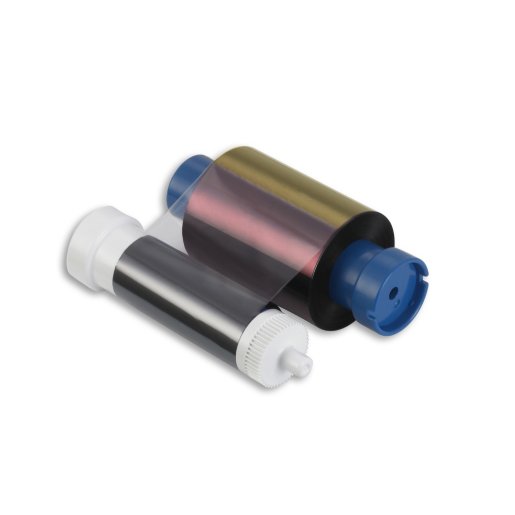 Made specifically for our own ID Maker® Printers, the YMCKO Printer Ribbon 43916 is the best option when using the Value, Advantage, or Secure printers. It prints excellent full-color images and text, and it features an overlay to protect your cards from everyday wear and tear. Plus, with our 30-day money-back guarantee, you can be sure you're getting the best product for your money. Also included is a cleaning roller.
Item Details
Prints full-color images and text.
Prints 300 single-sided or 150 dual-sided cards per roll.
Features a clear overlay to enhance card durability.
Compatible with ID Maker® Value, Advantage and Secure printers.
Great for printing membership cards, loyalty cards, and more.
Cleaning roller included.
100 Product Reviews
100 Reviews
Average Rating: 4.61 out of 5
Oder

My order was right on time great work,

ID Maker Ribbon

Easy installation, problem-free performance product.

Elaine C.

Easy to install.

IdVille

Always excellent customer service from this company!

Quality product

Installed the ribbon and ID cards printed were of good quality

Purchaser

Your company did awesome in helping us get our order in; along with updating the yearly Tribal Vendors license. Thank you very much!

Great Value

The ribbon works great, had no issues with the install or putting everything in service. Thanks you,

ID Maker Ribbon

Fast shipping and everything went smoothly.. Thank you for everything. Will be using again in the future.

ID Maker Ribbon

Works well to print full color high quality employee badges.

ID Maker Printer Ribbon

The ID Maker works well for our little school

YMCKO Printer Ribbon 43916

It's exactly what we needed and came very quickly.

Great and Durable Printer Ribbon

The ID Maker YMCKO printer Ribbon 43916 is a great product which prints vibrant colors on our PictureStock press pass cards for our photographers. We have been very, very pleased with this quality product and printer. Tony Costa CEO @ PictureStock.com Toronto, Ontario

YMCKO Printer Ribbon

*****

great

great product for my printer.

Printer Ribbon

Great product

Great product

Honestly the value and quality is on point. I'm overly satisfied with my idmaker.

Great Product; Fast Shipping

The ordering process is very easy and trouble free. Fast accurate shipping as always. We are very happy with our printer and the support we have received over the years. Keep up the great job. Tony C. Picture Stock Worldwide Inc Toronto, ON

Great Product and Service

Great Product! Always a perfect badge every time and the customer service is outstanding. Once I order replacements for ribbon and cards for badges, the product is delivered in a couple of days...I love IDVILLE Customer Service.

WONDERFUL PRODUCT

Great product! Never have a problem with these ID cards. Always a perfect badge every time.

Great Product

This is a great product. I would highly recommend this to any company or organization that uses identification badges.

Guidance Counselor

Your badges and ribbons always work the best for us. Thank you for your speedy delivery. Look forward to doing business with you in the future.

Great Service!

Always great service with my orders! I am confident that my order will be there quickly.

ID Maker YMCKO Printer Ribbon 43916

The ribbon is easy to remove and install. It works well for us!

Ribbon

Most cards print well but few photos hair comes out black. redo and lighten photo variation. Nice to have warning ribbon needs to be changed instead of just stopping.

Works as Listed...

works well easy yo create and use.

ID Maker YMCKO Printer Ribbon Review

I have had issues with some spotting left on the cards. It is not all of the time but sporadic.

Easy to place in the machine! I will buy this product again.

Security badges are issued to employees and their picture that is printed by the ID Maker System is placed on the badge.

Great product

This product works very well.

Works great....

Works as advertised -- and dealing with IDVille has always been great.

Printer Ribbon

We use the product to make Membership cards. It is relatively easy to use but occasionally the prints will come out splotchy, even after a cleaning.

Great Product

Great Product. No problems at all.

Easy to install!!

We have ALWAYS had great luck with anything we buy from ID ville!

Printer Ribbon

We print ID badges on a daily basis. This product, for the most part, prints consistently and evenly. My only concern is that I wish it printed larger volume as they are not cheap to replace.

Great!

We use this product to print ID Badges for a church program. It works great and we have had great luck with printing LOTS of badges. Definitely recommend.

Great product!

Great product. Easy to use and pictures on ID cards are fantastic.

Great Service

We use this with our badge printer we purchased from this company. Easy to order and quick delivery.

Fast service

Love the ID maker.

nice job

We use this for the ID printer--works well and good color

Great Product

I use this product to make id cards for clergy. Love it.

It works

We haven't had to change the ribbon yet, so this hasn't been put in yet- but the one in there now works fine- the yellows are a bit washed out, not as bright as I'd like, but all the other colors are fine.

Makes us look good!

We use this printer ribbon to make name tags for our guests. It is easy to use and produces great images on the PVC composite cards (30 MIL WHITE - 60/40), using our ID Maker.

Prints A Lot

These cartritges last a long time.

Great Value

I recently bought the advantage system for office use and cannot say enough about the quality of the items I have purchased from Idville. Even toward the end of the printer ribbon, the colors were vibrant.

I will buy this product again

Things working good so far with our badge system. Lots to still learn. I know that the system can do lots of good stuff.

New ID cards

Very simple to install the new ribbon! It took less than a minute and we were up and printing again. We needed updated ID cards for our 300+ users. The IDMaker printer didn't stop running for a day except to change the ribbon!

I WOULD BUY THIS PRODUCT AGAIN

INTERNET ACCESS WAS EASY AND DELIVERY WAS ON TIME..EVEN THRU THE SNOW STORM

YMCKO Printer Ribbon 43916

We have ordered several of these over the years and have never had any problems. They work beautifully.

I will purchase this product again

Works perfectly.

Easy as 1, 2, 3!

It was easy to locate what I wanted and easy to order. Once the ribbon arrived, it was easy to install. No muss, no fuss.

I would buy this product again and again

I wasn't real sure which ribbon to order for my printer but your staff was able to assist.

Works just fine.

We use it to make ID badges for our employees.

No problems

Worked like a charm. Very easy.

Prints Well

The ribbon prints well, and is easy to install. If it were only a little less expensive...

Awesome Company!

The Rollers for this machine are great!

I would buy this product again.

This product goes well with new printer we purchased. Colors on card are very clear and bright.

Does What Is Required

I order three of these at a time, as we do a lot of ID badge printing. There is nothing fancy about the YMCKO Printer Ribbon, but it does what it's supposed to. How refreshing!

Necessary, but could last longer.

This is necessary to the machine, but could last longer than it does.

I would buy this product again

Badges are printing crystal clear now.

Printer Ribbon Review

The biggest challenge we've had with this product is the ribbon breaking. After contacting customer service, we were told that it is likely due to high usage and that we need to be cleaning the printer more often. So, we will try that and see if that resolves the breaking problem.

we got what we asked for

Your product meets our need and is always delivered on time

ID MAKER YMCKO PRINTER RIBBON 43916

I use the cards to make all my photo ids. The images on the cards are very vivid and clear!

THIS IS SOME GOOD STUFF!

THE CARDS AND RIBBONS ARE GREAT QUALITY!!

Well done!

We have been very happy with the ID Maker products, including this color ribbon. I have not seen any badge with scratches or flaking of the images, and the color looks great. We have over 500 employees wearing the badges every day and have owned this product for over a year.

First time changing...Very user friendly

I make name badges for work and us the id maker machine.

Excellent Product!

Excellent Product, Excellent Customer Service. I can always count on them to have the items I need and for the product to be delivered fast. Awesome Service.

Works great! Easy to use.

Ribbons are easy to install, no mess and work just as they should.

Stand by Their Products

ID's are made for our regional EMS providers. So far this ID machine has been dependable. Easy to clean. Easy to change the ribbon.

Just as described!!!

Works as described--no complaints whatsoever!!!

COLOR PRINTER

Great product with great customer service. I highly recommend their products if your looking into badge system.

Exactly what we needed!

So easy to load and gives sharp picture!

Printer Ribbon order

Order shipped as soon the afternoon I ordered it.

Printer Ribbon

I use this ribbon for double sided printing in color. The color comes out better than others, our cards stand out the most next to our copmpetitors hands down. The only thing i have to complain about is i have gotten one ribbon that was defective. But idville sent me 2 ribbons to replace that one and reimbursed me for the shipping.

no problems

We have used this product for a long time, it gets the job done as expected. I will continue ordering this product for our ID needs.

Serving its purpose

The product does the job.

A Dependable Product

IDs come out clear and professional looking.

Great Product!

I find that these ribbons last a long time so I'm pleased with the value I get from them.

Fast Delivery!

We use the ribbon for our ID Badge system and haven't had any problems so far.

Printer cartridge

The cartridge is very easy to install and has amazing print capacity. This is a very good product along with the printer.

user friendly very easy to install

very easy to replace printer ribbon

Perfect again!

Perfect once again!

nice and easy

easy to install and reliable

Long lasting ribbon

The colors print very vibrant.

YMCKO Print Ribbon

The printer ribbon works well with the ID Maker Advantage system. The output print quality on the IDs are good. The ribbon includes the protective gloss layer. One thing that could be improved are the instructions when installing the cartridge in the ID maker. The cartridge comes in multiple parts with rollers. It is not always clear how the rollers are oriented and the ribbon can be unfurled accidentally.

Easy to install

Easy to install and shows nice color on the name tags

Works like a charm

I use the product to print stellar name badges and it works great.

Quality Essential

Easy to function/load/use. I would like more prints out of it to reflect the amount of cards we are able to purchase. Obviously the cards are much less. Not many problems otherwise.

Printer Ribbon

Had a few issues with black marks on the cards after installing the ribbon. After that, no problems!

Great prints from beginning to end

Impressed that prints are bright and vivid from beginning to end of the roll with no fading. Only wish is that we could get more cards per roll--ribbons are expensive!

"Simple and easy to install"

Pop it in the printer, works great,[...]thanks!

Does what it's supposed to...

I am not sure if we get 300 prints out of the printer ribbon, our cards are full color, but the colors come out nice and clear.

ID Maker YMCKO Printer Ribbon 43916

We have found that this ribbon work great for our ID Cards. We give it five stars! Dr. Donald Gibson, President of Chaplain Fellowship Ministries.

I would by this product again

The printer ribbon was extremely easy to install and had the printer back up and running in no time.

Review of Printer Ribbon

Excellent and when or if ripped, easily taped back together and continue usage

Great Product!

I'm really impressed with the protective coating included with the printer ribbon. I've had complaints in the past from employees whose picture has faded.

Great

Very happy with the product.

Working great

We bought an extra printer ribbon when we bought our ID maker machine because we knew we would be printing 750-1000 cards right away. We have printed about 400 and everything has gone very well. It is easy to use and looks great. We are very pleased.

Great Product!

Easy to use!