Re-Writable Visitor Card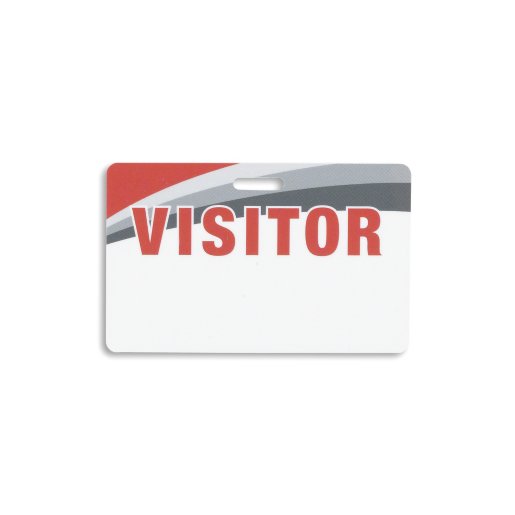 Set your visitors apart and make them instantly recognizable with these pre-designed, rewritable visitor cards. They feature a wet-erase coating ideal for daily visitor check-in. Use with one of our visitor lanyards to help you more easily monitor your building traffic.
Item Details
Pack of 25 cards.
Durable PVC plastic construction.
Slot punched for easy ID badge accessory attachment.
Badges are reusable with the use of our wet-erase marker (#44054BK ).
Dimensions: 3 3/8" x 2 1/8"
Production time: 10–12 days
Production Time: 10 to 12 days
Specifications
Material:
PolyVinyl Chloride
6 Product Reviews
6 Reviews
Average Rating: 4.5 out of 5
Product is perfect for our use.

We used to make badges for people visiting the plant & have to shred them afterwards. These we can clear off & re-use. Much more economic & Perfect for us!

Great idea - perfect for our office

We needed to replace our old visitor badge system as they frequently would walk out the door with our customers. This is a great product for our small office as the 25 cards are more than enough. They are so easy to reuse and look much more professional than what we had before.

A Great Buy

It is so easy to use these visitor cards and they last quite awhile.

Great Product!

Love this item! Love that it is reuseable!

Just what we needed!

We decided to use these badges for visitors that stop in on a regular basis, and people we truly know. It's much more cost effective than using the expiring badges for everyone. They clean up perfectly and look like new every time!

Works great!

Great for identifying visitors in our facility.