30 mil White Plastic ID Card Pack of 100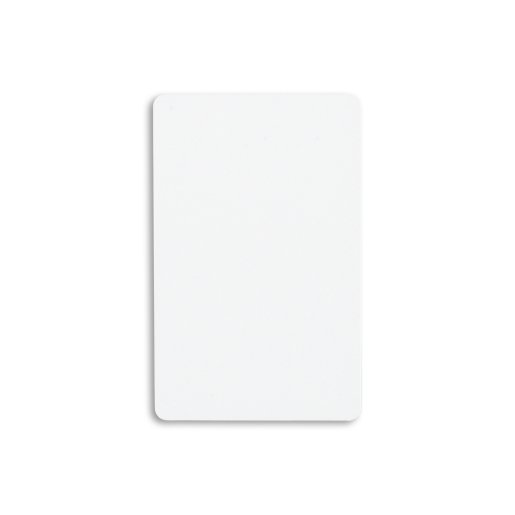 Blank PVC cards are NOT created equal. While the printer has a large impact on print quality, the cards are the canvas and also play a role in print clarity, card durability and printer longevity. These CR80 30 mil pure white PVC cards guaranty the best badge colors and so much more. We have tested PVC cards from tons of manufacturers and these are the best performance. All cards are shrink-wrapped in 100 bundles and are compatible with all PVC ID card printer brands.
Item Details
READY TO USE: Shrink wrap sealed straight from the manufacture for clean, crisp white cards
Credit Card Size: 2 1/8" H x 3 3/8" L x 30 mil W
MANY USES: use for office badges, membership cards, gift cards, student id's, for crafts, replace traditional game cards, index cards, etc
Pack of 100 cards
Compatible with any ID card printer.
Priced per pack of 100.
Specifications
Material:
PVC Composite Plastic
142 Product Reviews
142 Reviews
Average Rating: 4.69 out of 5
Fast Shipping, Product Exactly as Described

Impressed with the fast shipping of this product. Product is exactly as described. Quality product.

Gets the job done

We go through a couple hundred per year. Never had an issue.

30 MIL PLASTIC CARDS

OUR MEMBERS LOVE THESE CARDS PRINTED IN HOT PINK SO THEY CAN FIND THEM IN THEIR WALLETS. IDVILLE WAS SUPER HELPFUL GETTING US SET UP.

Elaine C.

Good, sturdy cards, easy to install.

cards

Cards are sturdy but do break at lanyard end, otherwise super heavy duty.

very good

these white plastic ID packs are very good and reliable

PVC Cards

This item is perfect for our needs.

Quality Product

The plastic ID cards are of good quality

Good Product

Good Product - Fast Shipping

Excellent Product

The badges are of great quality and we have had no complaints from any of the staff.

30 mil white plastic ID card

Very nice, durable product.

Great product!

We have been utilizing these for our employee and student badges for a year or two now. They always arrive quickly, in great condition and print without discoloration or smearing as we were noticing with the previous.

30 mil White Plastic ID card

The cards work well for printing full color ID badges.

Facility superintendent

Products are delivered within a day to a day and a half after the order is received Quality has always been outstanding

30 mil White Plastic ID Card

Order was correct and came very quickly.

Great cards

The cards are great! We print on both sides and are pleased.

30 mil white plastic id card

*****

HR Coordinator

The white plastic cards are great for Badge ID's.

Perfect

They were exactly what we needed.

My Favorite Cards!

I love these cards! They are now the only ones I order!

Great Product

I use the badges for id cards. I love the finish on them and the sturdy material. Definitely worth the purchase!

White Plastic Cards

The ID cards seem to work appropriately

Consistent and Reliable

I use this product for membership cards. I can count on the printer to produce as many as 100 cards per day with very little error. On rare occasions, the cards come out a funny color.

Service was great

Used to make employee's ID cards

Badge Supplies

Works great for the application we use it in.

Exactly what I expected

I use the IDVille Primacy Printer and cards to make membership cards for my association. It's fast, easy to use, and the color is consistent. The cleaning process is not very intuitive, and I've had some trouble with it.

30 mil White Plastic Card Review

The card feeds easily through the machine. We use the cards for employee ids and there is breakage at times, but it could be due to normal wear and tear.

Good Quality for the Price

Good quality cards for the price. We currently use these for our employees who work outside everyday doing landscape maintenance and they are holding up well.

These cards work for staff ID badges.

The cards work fine for ID badges the only complaint about the badges is that they break when used by maintenance, custodial personnel and sometimes bus drivers. A little thicker material would probably work better.

Great product

This company gives great service.

Fast Service!

I use the plastic cards to print Qualification Cards and they are perfect. The color ink prints very well on them and they lost a long time.

I would buy and recommend this product

This product has been very useful and exceptional in our business environment.

Received on time

Good product and ship time.

priced well and good quality

I will continue to purchase

Quick Delivery

Ran out of cards while printing new IDs for the year, placed an order and had it the next day.

White Plastic Card

This is our ID Card We are interested to see how well the printing holds up.

Effective

I use this product for all our student ID cards. It is effective and turns out good quality photos.

Great Customer Service

The cards are just fine in quality (:

Superb Quality

IDville plastic cards are always clean and free of any defects.

Superb Quality

IDville plastic cards are always very clean and free of any defects.

Excellent Product!!

After searching multiple on line sites i finally found exactly what I needed at IDville. The IDville team was extremely helpful in my ordering process and the shipping was fast and accurate, so I give them 2 thumbs WAY up!!

Great product

This product is used for our school ID cards.

Love the product!

I make student and teacher ID cards for my school. This product works perfectly with the ID printer and software that I also purchased from IDville.

nice quality

Great for our student ids

Good Quality.

These were good quality. We will order again.

Will continue to buy!

They print on them comes out perfect. Great product for our company badges!

White plasic card

Products are great. prompt delivery

30 mil white plastic card

These cards are great for use as a temp card when we dont need an HID.

Re-ordering was easy.

It was easy to re-order for the ID Maker. The product is durable. IDs turned out great! Many positive comments from staff.

This is a very good product for badges

Products delivered in a timely manner

Very helpful staff

This machine and products work out really well except for some of our staff cards double print but that is probably something with the computer connection.

Arrived in Record Time

Love this product for our employee badges.

Great Cards

These cards make great name badges!

ORDER HANDLING

This product is very reliable...have had limited issues with cards jamming since switching over to new equipment & supplies!

I would buy this product again!

We utilize the badges for name tags during VBS and other outreach programs. These durable badges last the entire week and can be customized for our events.

White plasic card

We use these to make our school ID. They work out great. I haven't had any problems with them thus far.

Performance & Quality as described.

Performed & quality as described it would. Customer Service staff helpful and quick shipment. Will be a repeat customer. Thanks.

Good Product

My company uses this item for name badges. They last and are good quality

White Plastic Card

Excellent

Great Product!

I LOVE these things!

White Plastic Cards

Product, customer service, and delivery are excellent.

Good as it gets!

The cards are just like the DMV uses

Perfection in a card!

I'm an administrative professional for 10 years and I love these cards!! I have been using this product for 3 years it is the best on the market. I am able to design them in so many different ways.

Simple product

Very easy to use and long lasting cards.

Produces nice end product

Produces nice badges

ID Badge

Product works well as ID badge however does not hold up for lengthy periods of time if used with punch out/clip

Product excellent for employee I.D. badg

Product is excellent

delivery of plastic cards

I was kept up to date every step of the way and that enabled me to perform my job easier

Good enough for me

The service and delivery is excellent!

I would buy them again.

I use the product for activity cards and staff ID's.

Just what I ordered and just what I need

Haven't found anything not so great about it. It meets our business needs perfectly.

id cards

id cards are so easy to load and that's the only step. the machine does all the work. I just hit "print" and out came a great look id card.

So far so good!

Card is good stock and holds up well so far.

Great product for a great machine.

No problem with the item. They came in a timely manner.

Great Product

Durable and sturdy. Pictures print well onto card.

Works perfectly

We use these badges with our Zebra 330i for employee badges. A few hundred per year. They are easy to use and the print quality on them is good. The only downside is that the print will abrade over time unless protected, and with sun/heat exposure, the badges become yellowed or brittle.

Many uses

Very easy to adapt for many uses

Keep those ID Badges coming!

We needed the plastic cards used in the process of making Employee ID Badges, as we discovered that we were out! I called IDville, and they shipped them right out to me,even though this was not a big order in size or amount. We received them and were back in business within a few short days! The expediency with which they filled this order was greatly appreciated!

Agency love the look of the id

I use this item to make ID bages for our Business THey look professional They last longer then regular laminate

Our school uses this product over and ov

these are the only cards we have ever used for name badges for our teachers and administration

Great Pricing

This product is a great price, good quality ID card.

Very durable, good quality

We use the cards for ID's.

I would buy this product again and again

I use this product for making ID badges for our school system.

Does What is Expected

The 30 MIL is a good weight. Very durable, as they get exposed to a fast oil change environment, and last a long time.

Quality Product

We process new employee cards weekly and i always get the perfect photo, logo, and imprint on these cards.

Great for Small Businesses

Great for small business employee ID's.

Perfect ID Cards

All employees now have ID badges and they look great!

Good product

Strong product, prints well.

Wonderful product!

Cards print up perfectly everytime.

Good cards

The cards are extremely durable.

Excellent

Excellent service, with good email confirmations and quick delivery.

30 mil White Plastic Card

The cards work great for our students. Very durable.

Plastic Cards

Great product - what I expected.

I will use this product again.

I use this product for making our employee ID badges.

I will continue using this product.

I will continue using this product. Also I will continue using the blue Plastic Card,we are hiring more employees,. Thank you for the fast and very efficient customer service department.

This product is okay

Easy to use with good print quality. Sometimes they break easily where they are hole punched. Also they collect dust and dirt very easily if you accidentally drop on floor.

ID Bage Cards

We use this product on a daily basis for identification badges for our employees. We had previously used a less durable card that when moistened would be unreadable. This is a very durable product and we've been told withstood the washing machines of many of our employees.

Quality Produc

Heavy duty badges that print clearly and cleanly.

Cards are exactly what we needed!

Simple and perfect!

Very durable

I use this for school IDs and every one loves the quality of the card. I have not had any bad remarks or problems with this product.

WORKS FOR US

RECEIVE PRODUCTS VERY TIMELY. VERY COURTEOUS ASSISTANCE WHEN CALLED ABOUT PRODUCT PRIOR TO ORDERING. WORKS GREAT FOR USE WITH EMPLOYEE NAME TAGS IN OUR SCHOOL SYSTEM.

Easy to Use

I use this product to create Staff and Student ID Cards for a PK-12th Grade Small School. I include barcodes on the cards that work with: Our library software/hardware, cafeteria meal software/hardware, and Staff Clock-in software/hardware. I am also able to include on the cards photos for identification.

Great for so many things!

The cards from IDVille are great for so many things. In addition to the ID's we make for our students and staff, we offer them for discounts and gift cards as prizes and giveaways to local organizations. You can choose from IDVille designs or completely design your own or mix and match your logo with IDVille preloaded designs.

No complaints here, Bubba!

We provide IDs for Cape Girardeau County workers, and for some State workers. These IDs perform exactly as advertised, and we'll be using IDVille for future orders.

Simple and Professional

We use this card for double sided printing, and print about 30-40 cards weekly. -The print comes out clean and clear -The only downside is that if the card is not clean, it is hard to get the dust and particles off, and when you print on it, the ink does not come out clean.

Consistant

Easy to use and last a long time

Good Choice

Good product. Very dependable.

People and Service

VISITOR MANAGEMENT ID'S

Looking good.

Cards are holding up nicely. Look professional. No complaints.

Cards are great.

Much better than our old cards. More professional looking and last longer.

Cards are great!

These cards are so much better than our old laminated cards. Much more professional looking.

No problems here!

Easy way to identify children and teachers Room to include both logo and text Durable enough for each quarter of use as well as reuse of teachers' tags.

Love them

This product is great to use for IDs. I will purchase them often as we need to make new cards.

Perfect!

Delivery was on time and quick!

Great Customer Service

Great Product!

Blank cards

Good quality, durable

Suits our Needs

This is a good functional card for our Employee ID purposes. Cost is reasonable.

I like this product

Students are happy with the new ids

Excellent quality

We had a quick delivery and excellent product for our badges for students and staff.

"I would buy this product again"

We use the cards to make ID badges for our State Agency. They work perfect! No smearing or smudges. Photos look great.

30 mil White Plastic Card

The cards were exactly what I needed. Staff was very helpful.

Nice size

Suitable for everyday name tag, nice size.

EXCELLENT PRICE

THE RIGHT PRICE QUALITY CLEAN FEEDING ON PRINTERS

Plastic Card

This product is well described and works perfect. The price is good for the product. I will definitely buy the product again.

Greta product!

Durable nametags.

I would buy this product again

This product has been great, and the people at IDville were very helpful with the ordering process!

No Jams!

Feeds consistently every time.

Great product

Great product. We had id cards from other vendors in the past that were much thinner. These are great. Rarely have we had anyone come in saying the card is broken.

We will be buying this product again

We will be buying all our plastic card products form you in the future. We print over a thousand cards a year and have found this product to be excellent. Dr. Donald Gibson President of Chaplain Fellowship Ministries

D.M. Bowman, Inc.

Cards are used for employee badges using the Pebble Evolis Printer. The end result is a crisp, clear and durable ID Badge.

I will continue to use this product

We use these for our company ID cards

PVC Plastic Card - 30 Mil White

Product does what it's supposed too.

Best product for a house of cards

Mostly used for visitors and guests for short term/disposable ID badge.

PVC plastic card

We use PVC card for employee badges and they are great. You can do an employee badge in less than 3 minutes. It is a great purchase the company made to make my job easier.

Plastic Cards

These cards work very well. They are very durable and allow for flawless printing.

Good Cards Great Value

Just make sure you shuffle the card a little before loading. Static cling makes them stick and sometimes the printer will grab more than one.

Great!

Cards look great and the id photos print very well on them.

Great Product/Good Price

The 30 mil PVC card works well for our employee name badges. They are easy to work with and durable.

pvc plastic card - 30 MIL white

with the machine we have DuAlys, the cards wont feed into the hopper unless we put in a quarter of the amount that the hopper can hold, tech support is no help, they try to refer you to someone else that has the same machine or documentation,

"Don't order these without a full deck!"

Great badges for many uses.We use them for IDs for special guests, visitors, and contract employees.

Nice Cards!

Good printing surface!