Step 1:
Choose a Nameplate Type
Step 2:
Customize Your Nameplate
Step 3:
Review & Add to Cart
Engraved Nameplate Only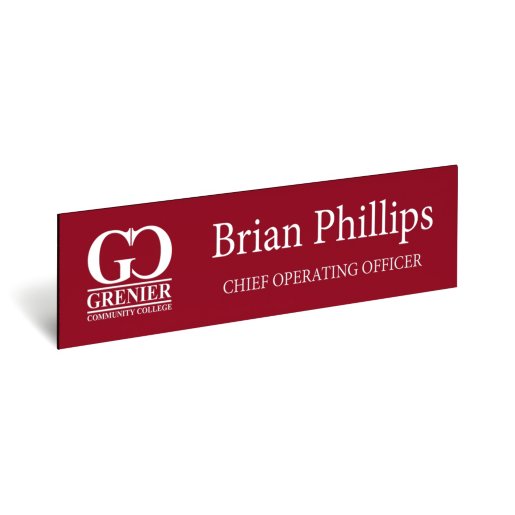 Need a replacement plate for your nameplate? Design your own in no time! Plus, if you approve the final artwork by 4pm EST, we'll engrave and ship your order the same day. Start by choosing your plate color, then move on to personalization. You can choose from a selection of elegant graphics and fonts, and add up to three lines of text.
Item Details
Made of plastic.
Choose from twelve plate colors, more than 30 graphics, and five fonts.
Add up to three lines of personalization.
Priced per nameplate, sold individually.
Order ships the same day if final artwork is approved before 4:00 p.m. EST.
Dimensions: 8" W x 2" H
Production Time: 1 to 2 days
143 Product Reviews
143 Reviews
Average Rating: 4.73 out of 5
Super-fast Shipping

Great product, simple ordering, and super-fast shipping.

Engraved Nameplate

Great service, great product, excellent delivery. Only wish you had option for slightly larger font size.

Nameplate

Excellent service. Fast and reliable.

Engraved Nameplate Only

Great Job on processing and quick delivery.

Engraved Namplate

First time I placed the order online, very easy to do. Received the order within 2 days. Looks great

Best Nameplates Out There

I have been using these nameplates in our office for over 6 years. They look very professional and still look brand new.

GREAT SERVICE

My nameplate was created quickly and neatly. It resembles everyone else's in the office. Good thing too...boss is a stickler for that.

good customer service

IDville is the best printing vendor. Quick response and quick production always.

FIA

Great quality Prompt Service Provide excellent Customer Service

Beautiful Workmanship

My new nameplate is beautiful and well made. I already had a frame and only needed the nameplate - fast delivery made it even better. Very well made for the price, I will order again.

Engraved Nameplate Only

5 stars

HR Manager

Great website!

ENGRAVED NAMEPLATES

Easy to order online, great quality and fast service.

Engraved Nameplate Only

Nice quality, good coloring and neat, clean lettering.

easy online ordering

The ordering online is fast and easy. I love that I can approve the proof online, and how it links through email. So very fast and easy for my busy worklife.

Engraved Nameplate

Perfect! Thank you!

Engraved Nameplate

Our company orders many nameplates through IDVille and have always been 100% satisfied!

Excellent quality and turn time

I have ordered these multiple times throughout the years and have never been disappointed. It's a quality product.

Engraved Nameplate Only

Great service and product

Great Company

Awesome company and products. Customer service is exceptional!!

Excellence

IDVille has filled several orders of different items for us in the past. I can never recall a time we did not receive a quality product, nor their efficiency being excellent . I can always depend on exceptional service when we order from IDVille. Thank You.

Wall plaques

Products ship quick, arrive as expected and quality is first class

I would buy this product again and again

I order nameplates for all office employees, looks clean and professional.

Great Product

Ordered for all employees. Product is clean and professional looking.

Great Product

Great office sign!

Engraved Nameplate Review

I order name plates for all new staff. IdVille is quick. I have never had a problem with an order!

Very Nice Product

Ordering was very easy and product was just what I was looking for.

Great Name Plate

Clean, smooth design. Great size and shape for all mounting and displaying sizes.

Professional Image

We use these nameplates for all of our staff. They project a very professional image and are very well received.

It was just what I wanted

It arrived very fast!

Great product

Nice product

Prompt and Reliable

Just as advertised.

Great Product

Great product

used company in the past

have used the company in the past

Simple but elegant

Every staff member has a nameplate on their door, and for each nameplate we have turned to this design because it is simple, durable, crisp, and professional looking. We even have it customized with our logo.

Great Service

Never a problem with orders, delivery is quick!

Engraved Nameplate

A great job as always. IDVille does a great job of taking the order, processing it, and sending it out quickly and efficiently. Kudos to the team!

Engraved Nameplate Only Review

We have used this product in our office for years - it is our go to nameplate.

Love my signage!

Looks great!

Pretty Solid

The nameplate is pretty solid. We purchase one for every employee!

Happy with everything I recieve

Love this company been using them for years always satisfied

Engraved nameplates

We use this product to designate office/cubicle areas. It is quick to order and print so return time is optimal. The only issue is that the nameplate in the holder is heavy so affixing to a cubicle wall area warrants creativity. The Velcro doesn't hold the weight.

Office Nameplace

I have been ordering these name plates for our company offices now for about 4 years. I like the fact that we get them so quick, and always look nice and professional. I select the same thing for each new employee and they always match nicely with the exsisting nameplates in the office.

Great Service Super Easy to make your ow

I love making my own name plates on line instead of going to a company and placing an order in person.

Great Service!!

Built to last

I always buy this product!

We use the nameplates to denote employee offices. It looks good and is easy to insert into the black sleeve.

Great Product

These nameplates are very professional looking and reasonably priced. They add a sense of class to our offices. We are very pleased with every order. We order online and it is extremely simple and quick.

I would buy this product again.

Just what we wanted.

Excellent Quality Name Plates

We use ID Ville exclusively for our nameplates throughout our office for years. The consistency is ideal for a smooth look as you walk through the facility. I have tried to buy locally and there is no one in our area who can deliver on time and the same nameplate color and fonts.

Engraved Name Plate

Quick delivery

Quality Product and Fast Service

Classic, quality name plate for our staff offices/desks

Great!

These nameplates are very durable and clear to read. Easy to install and switch out as well. The shipping is super fast as well!

Awesome turn around!

I was very surprised how quickly we received the product since everything was custom. Easy to order online. Good quality.

Good but...

The nameplate looked great. But when it was delivered, I got the wrong product. I ordered silver plate with black font, instead it was black plate with silver font. Twice. The third time, I got it right. I have a little of doubt to recommend this to a friend because of the incident.

Great product

This product is great, very easy to order and always delivered on time. All websites should be this easy!

Always High Quality and Fast Service

We order the engraved nameplate and silver frame from IDville for all our employees. The nameplates give our offices and cubicles a very professional look. They're very high quality and reasonably priced. The nameplates conveniently slide in and out of the frame so the frames can be reused which saves money.

Engraved Name Plates

We have been ordering from this company for quite some time and am impressed every time for the speed and accuracy of each order!

Engraved Nameplate

Had to use adhesive tape to secure the plate to a cubicle wall since the Velcro doesn't support the weight of the plate.

YOU GET WHAT YOU EXPECT: EXCELLENCE

NAME PLATE USED AS OFFICE SIGNAGE. VERY UNIQUE DUE TO LOGO. EXCELLENT SERVICE.

Fastest service this side of the MS!

pleasant service and fast!

Easy - Quick - Just as it looks

It's just a nameplate for an office door, but I have ordered 15 of them. It's easy to order and looks exactly like the automatic proof. Very quick shipping. I definitely recommend ordering if this is the kind of thing you need.

Nameplates

We always received them in a very timely manner. The quality is always good.

Great Product and Fast Shipping

Everything as described. Great Customer Service Staff that answered all my questions.

Review for name plate

IDville once again provided a satisfactory product.

Satisfied Customer

Crisp, professional appearance for rooms or individual personalized nameplates.

Nameplates are great and simple to order

We have ordered these on 10 different orders and each time they were identical. Great consistency and a fair price. Service and turnaround time is outstanding.

Name plate

It was great, just what we wanted.

Great product

Product was as requested and delivered on time

VERY HAPPY

Im very HAPPY with IDville > Im business owner with 10 years experience and I BELIEVE that "Quality is not an options its a must" IDville have met and Higher my expectation.. YES THIS review is real my name is JORGE ARREOLA and im the LATIN SKULLS ceo I WILL GIVE YOU GUYS 6 stars

Satisfied again with product

- Again, very satisfied with the product. It is always a pleasure to deal with IDville, your staff are very helpful and polite

Satisfactory product

All employees receive a name plate for their desk. This product is perfectly satisfactory for what we use it for Every order has look great upon arrival

Excellent purchase and quick delivery

Excellent item. It was just what we ordered.

Door sign

Usu for staff door

Name Plates

Great for door signage in office setting.

Perfect

Client was very pleased.

great signs

work really well in our office, great price

Great Product!!!

Inexpensive and looks great!

Beautiful Name Plate

The plate came within 2 days of ordering. It looks beautiful. I've made all of my coworkers jealous.

GREAT SERVICE!

My engraved nameplate was perfect and it arrived THE NEXT DAY! I would definitely order again!

It's all in a name

Nameplates are wonderful. IDville makes it easy for me from the second I order to the few days that it takes to arrive. I would highly reccommend them!!!

Satisfactory Product

We purchased wall name plates. It is a simple product and overall we have been satisfied with it and service from idville.com. There is a quick turn around in the time we request something, get proofs, and finalize orders

Repeat Business

I began purchasing these nameplates about 4 years ago. As staff comes and goes, I am always re-ordering and I never worry about the item matching. And the turnaround time is AMAZING. If I place my order by 1:00pm EST, I have it the nxt day via UPS Ground.

Great Quality, Fast Delivery

The product quality was great. These nameplates create a professional and polished look for our employees.

Fast shipping and quality product

Fantastic quality - looks very sharp.

Great Job

This name plate was reasonably priced and it looks great.

Excellent Quality

Excellent purchase, I would buy again! Thank you.

Nameplate review

Great product.

I would buy this product again.

Product was easy to order and I would order this again in the near future.

Easy to order. Looks great.

What you see is what you get. If you like what you see online, you will like what you get.

Great product

Wonderful customer service - fast delivery

Engraved Nameplate

Easy to order and fast shipment.

Name Plates

Use on Interview Room Doors to indicate which Dr. is utilizing the room.

Badge Reels

Best badge reels in town...great price!!

always great

Name plates are used for employees in our office. They are useful to help new employees find who they are looking for and to know the title of the person.

Satisfied Customer

We have these on every door and cubicle in our office. They look very professional. Very easy to order and personalize online.

Fast delivery, rare errors

WE use the nameplates and ID badge plastic. We get what we order and get it quickly

Katie E. Thomas HR Coordinator

name plate is used for desks and beside office doors. Easy to use and we recieve them fairly quickly.

Engraved Nameplate

I order all nameplates for our company, when we hire new people. These are professional nameplates, and they are also prompt. Our new consultants want their name out there as soon as they start so it is imperative that the nameplates get to us as soon as possible.

Professional appearance.

The office signage helps keep our office looking professional.

I would buy this product again

Office signage

Engraved Nameplate Only

Quality is good, promptness of order fulfillment is superb

Need to know their name?

Wonderful name plates! We order all our name plates from IDville.

Proof exact

The online ordering process was very smooth and easy. The proof you approve online was percise and the product arrived quickly and was accurate. Definitely recommend!

Very satisfied customer

We use this product on our office doors and cubicles. Looks very nice.

Fantastic nameplates for great price!

These nameplates look fantastic in our office! Having our logo on the nameplates really makes them stand out. We have ordered over 30 of these nameplates for our two offices and will continue to purchase these for new branches and new hires!

I would buy this product again and again

Name plates came out great.

Nameplates

The nameplates are very nice and this company makes it easy for me to order and the order is always shipped very fast.

Classic

A classic template for office signs! Great quality and clean look.

Always reliable

As we grow and hire, promote and transfer employees, it is so nice to be able to order and receive their new nameplate quickly. It reinforces their sense of pride and accomplishment at being selected. Thank you for always being accurate and fast with our orders.

Nameplates

The nameplates are a great quality and we are very happy with this product.

Exactly what I ordered, arrived quickly

Use on the doorplates next to offices Easily replaced/added when necessary No complaints about the product.

We are always pleased with this product

We use them outdoors and they hold up well!

Nameplate

The nameplates are always perfect! Great quality of work.

Engraved Nameplates

Fast and professional service. Great product nicely done!

Fast turn around

Name plates were accurate, reasonable and arrived quicker than expected.

So easy....

Love the online ordering and approval. Doesn't get any better than that. You get to see what it looks like before you order. Great product.

Quick and Efficient

The product is exactly what we need and the service is so simple and easy. Shipping is a snap and so quick! Will definitely be a loyal customer for years to come!

Great nameplates! We will order again.

You people are great and always so prompt. We are very pleased to have you!

Perfect every time!

Every time I order a nameplate it comes out perfect! Thanks so much!

fast delivery, very good product

I am very pleased with the work and delivery time. It looks great!

Just what the (non)doctor ordered!

Great looking, and just what I was expecting!

Simple but Still Satisfied

Every product that we have ordered have been consistant and great!

Great Project - Great Price

Great looking product at a great price. [...] Highly recommend

Very Satisfied!

We love this product. We use them on all of our office doors and cubicles. They are so easy to order online.

Good Show!

We use these as swappable nameplates in our steel-melting offices for whoever is currently operating the furnace. They are in a harsh environment, but so far have held up well, and still look stylish.

Pleased

I purchased 2 name plates and am quite pleased with the quality of the plates and the engraving. I also want to add, "Great Customer Service!"

Reasonably priced & good quality

Quality product.

name plates

Suited my purpose exactly. Just used velcro tape on back and mounted on fabric cubicles.

Nameplate for Mike Seitzinger

It is a nameplate It is accurate

Customized product at a great price.

We use these name plates for our City's Planning Commission. When we've had a change in commissioners, we just order a new name plate. Your customer service department helped me by looking up our past orders so that I could duplicate the color and style exactly.

Quality Office Door Nameplate

Very nice product at a great price. Excellent customer service kept me apprised of shipping dates. Delivery was fast. Ordering easy. Very positive shopping experience. Will shop here again.

Classic

[...] looks professional

Awesome Products, I always come back :-}

I use the nameplates 4 the office, & get great comments.

Speedy and efficient

We recently added name plates to our internal office staff...your product works great! And re-ordering is very easy! The only thing I would recommend is that a previous order could be saved and we could reference that online.

excellent work

we love these particular signs for our office doors. they are very neat and professional. always a pleasure to do business with idville!

Great Price! [...]

Works exactly as it is supposed to.

name plates

have been ordering these nameplates for years!

Office Signange & Cust Srvc

We purchased each office employee a name plate for signage to their office. This gives the employees a feelling of belonging and it looks great.The service is great, I never felt like I was just another customer.I would only recommend providing stronger velcro.

Great product

it was exactly as requested

Like that you state the size

The service and products which I have ordered have been great! I would highly recommend this site to anyone.

always what i need

we use this product to display employees names and titles. they are great!

Perfect Again

Nameplates and holders are clean and neat in our 'no fuss' engineering environment. We don't want the nameplates to distract you from doing your work!

I bought this product over and over

We found this product when we were doing our office renovation and have been very pleased. They are very professional looking. [...]