Universal Laminator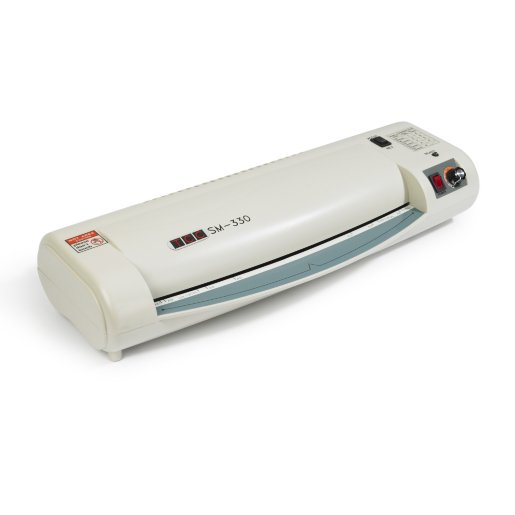 Compactly designed for transport, smart features make it ideal for any job. Measures 13". Use it to laminate ID badges, important documents or handouts. A multi-use tool necessary for any office or home.
Item Details
Gravity-fed, carrier-free laminator
Multiple rollers
Adjustable temperature settings
Laminates sheets up to 8.5" x 11"
3 Product Reviews
3 Reviews
Average Rating: 4.67 out of 5
Outstanding quality

We use this product to laminate ID tags for employees, emergency exit signs and table display information sheets for business expos and conferences. This product is signifiantly less expensive than compareable machines from other retailers. It's true that a lot of "copy" shops and supply stores can laminate projects for customers, but for the inexpensive price of the machine and the convenience of not having to leave the office, I feel this is the way to go! Whether you laminate each week, or randomly throughout the month, this is a time saver and an expense saver (no more unecessary mileage to the store for laminate copies)! You might even find yourself laminating things you never did before due to the inconvenience/expense of making the trip to have it done elsewhere.

Outstanding Product!

We use this to laminate name badges, i.d. tags, signs and much more! Our previous laminator (same model) finally gave out after 8+ yrs. We've had zero issues/complaints, but we still wanted to take the opportunity to see if there was a better bargin or product on the market. We discovered most reviews of different brands/models stated an average "life" of up to 4 yrs! It was near impossible to find any other laminators that can handle more than 6-8 MIL for less than $300-400. We immediately re-ordered the SM-330. Not only has our retired SM-330 out "lived" most other brands, we've also discovered this laminator is much more versitile than most other brands. This laminator is able to preform using 3MIL - 10MIL laminate. I would certainly recommend this product and IDville to associates and friends!

Good laminator

Works well, heats up quick, can use for various sizes