Adhesive Magnet ID Attachment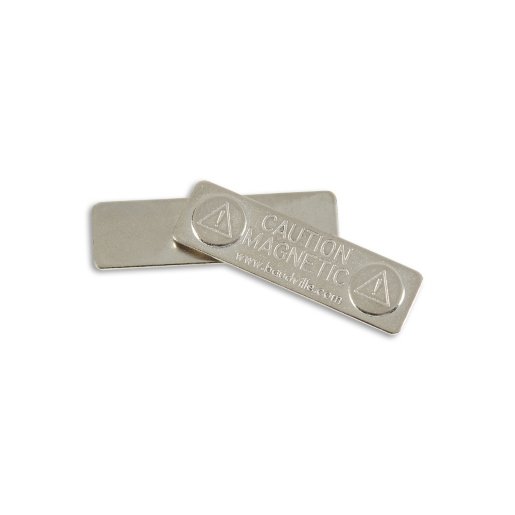 A cost-effective option for badge wear, this bar magnet prevents unnecessary wear and tear on clothing. It's a convenient alternative to a lanyard or clip display that still keeps your ID card front and center.
Item Details
Round magnet and larger rectangle size also available.
Adhesive sticks the magnet to the back of your ID card.
Do not use with magnetic stripe ID badges.
Priced per magnet, sold in increments of 25.
Dimensions: 1 3/4" L x 1/2" H
Warning: magnets should be kept away from pacemakers, credit cards, and computers.
16 Product Reviews
16 Reviews
Average Rating: 4.5 out of 5
The magnet bar is the way to go

The magnet bar replaces the pin attachment on the back of a name badge. No snagging your lapel or clothes with this magnet bar and no worries it will fall off. We use them for every on we order!

Good product

These are heavy duty magnets. Very secure.

Great product.

Very strong magnet, keeps badges from being lost.

Another satisfied customer - AGAIN!

We use these badges for sales and service training classes. Then they take them home to use in the field.

Nice product!!

My company is using these magnets to add to a plastic name badge we're producing in-house. The magnet was easy to apply and works great! No more pin holes in our clothes!!!

Does its job

The price seemed a little hefty but it functioned very well.

Staff love the magnets

Staff have the option of using a lanyard and clip or a magnet to affix their name badge. Most prefer the magnet. Doesn't snag clothing, and is strong enough to work even through a sweater.

I will buy this product again.

Our employees use this product for their ID badges.

perfectly fine

So far, reliable and convenient.

Great product!

This was a quick, easy, inexpensive idea to wear our name tags. The name tags look so professional and the magnets prevent holes from being poked in my clothes.

So magnetic!

We are now using these instead of the clips as they lay better on uniforms, allowing our patients to see the staff names more clear.

A Great Product

This is a great product, it holds through all types of material thicknesses. Our cooks love them for holding their ID's in place and they don't have to worry about them dropping into the school lunch.

Good Product

We use them for photo ID's badges and they seem to work fine. No complaints

Dress to impress

This product is great for blouses and materials that you do not want to poke holes in like the traditional pins.

Love the magnets!

Our employees always complained about having to wear a name tag because they hated the pins, clips and lanyards. The magnets have been quite a hit! I haven't heard any complaints and they work great! The magnet is very strong and can be used even with a thick sweater! [...]

I would buy this product again and again

My staff enjoys the ability to place their namebadges on clothes other than around their necks.